What is Invisalign?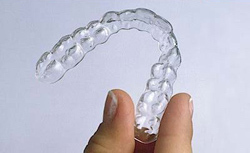 Invisalign uses a series of invisible, removable, and comfortable aligners that no one can tell you're wearing. So, you can smile more during treatment as well as after. Invisalign is made with 3D computer imaging technology and has been proven effective. More than 70% of orthodontists in the US and Canada are certified to treat with Invisalign.
Invisalign is an alternative to metal braces for straighening out your teeth. The proprierary brand name is made out of the word 'Invisable Aligners'. Here are some information you should know.
Its a series of clear aligners custom made according to your dentition. Every new aligners, which you are to change every 2 weeks, will exert a little pressure at certain spots to push your teeth to the right alignment.
Why would I want it?
Not only are the aligners invisible, they are removable, so you can eat and drink what you want while in treatment. Plus, brushing and flossing are no problem. They are also comfortable, with no metal to cause mouth abrasions during treatment. And no metal and wires usually means you spend less time in your doctor's office getting adjustments. Invisalign also allows you to view your own virtual treatment plan when you start so you can see how your straight teeth will look when your treatment is complete.
How does it work?
If you choose Invisalign, the dentist will start by taking x-rays and photos of your teeth in addition to making an impression of them. These will be used to design a treatment plan and create a tray that is molded specifically to fit your teeth and manipulate them into the correct place.
Every two weeks or so, you'll visit your dentist to receive a new aligner that will further your treatment and help your teeth reach the right position. In most cases, this treatment takes about a year for adults, but it can also be used to help teens.
Pros
Invisible
Removable
No issues with food getting caught
No difficulty eating
No discomfort from wires
Cons
May have discomfort from tooth movement
Must remove before eating or drinking anything but water
Must brush after each meal to avoid staining